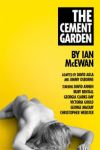 The Cement Garden
- The Library at The Vault Festival
Hinta/henkilö alkaen € 34.50
"I did not kill my father, but sometimes I felt I had helped him on his way. And but for the fact that it coincided with a landmark in my own physical growth, his death seemed insignificant compared with what followed. I am only including the little story of his death to explain how my sisters and I came to have such a large quantity of cement at our disposal." In the relentless summer heat, four children retreat into an isolated world left to them by their parents, and attempt to create their own version of a family. In Ian McEwan's first novel, The Cement Garden explores coming of age, burgeoning sexuality and the distortions of a 14-year-old mind.
Tapahtumapaikan tiedot
The Library at The Vault Festival
Leake Street, Waterloo
London
SE1 7NN
Näytöksen tiedot
Ensimmäinen esityspäivä
2014-03-08
Varaus päättyy
2014-03-08
Kesto:
90 minutes
Ohjeet

Leave Waterloo Station via Exit 1. Turn right onto Station Road Approach and keep on the right hand side of the road. Walk all the way to the bottom of the road and go down the first set of stairs you come to and turn right at the bottom of the stairs.

Katso karttaa