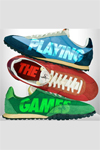 Taking Part
- Criterion Theatre
Hinta/henkilö alkaen € 29.20
A funny, timely tale of true grit, self belief and canny opportunism. Lucky Henry, a Congolese security guard, has set his sights on representing his country at the 2012 Olympics. Only one problem; he's a terrible swimmer and his Russian coach wants to fly home on the first day of training.
Tapahtumapaikan tiedot
Näytöksen tiedot
Matineat
2.30pm, 3pm and 4pm
Ensimmäinen esityspäivä
2012-07-29
Varaus päättyy
2012-08-12
Etsi teatteria
Etsi teatteria
The theatre can be seen on Piccadilly Circus next to the Eros statue.

Katso karttaa