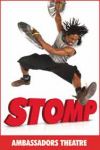 Stomp
- Ambassadors Theatre
Hinta/henkilö alkaen € 38.50
Tarttuvaa rytmiä ja raakaa energiaa!

Rytmin tuntua päästä jalkoihin! Stomp ei ole perinteinen musikaali, vaan enemmänkin show. Itse asiassa Stomp on 100 minuuttia puhdasta energiaa. Osta liput Lontoon Stomp esitykseen tästä!

Stomp käyttää hyväksi kaikkea mahdollista roskista, vanhoihin kenkiin, sytkäreihin, tiskialtaisiin, luudanvarsiin asti, siis itse asiassa kaikkea mitä voidaan käyttää luomaan STOMPin huonomaineinen ja hyvin tunnettu rytmi. Et usko sitä ennenkuin itse koet, näet ja kuulet STOMPin.
7
Erinomainen
4.9
Reviews from 7 customer reviews
Mahtava show!
Kävin katsomassa Stompin Lontoon Ambassador- teatterissa. Esitys oli aivan loistava ja piti otteessaan alusta loppuun. Esiintyjät olivat todella taitavia ja ottivat yleisön hienosti mukaan. Ainoa miinus oli se, että salista oli loppua loppuvaiheessa happi. Muuten kaikki odotukseni ylittyivät.
Täsmällistä!
Näki, että esitys on ollut ohjelmistossa jo pitkään. Seuraamiseen ei tarvita kielitaitoa. Sopivassa määrin huumoria taidokkaissa esityksissä. Uskomattomia välineitä esityksen toteuttamisessa.
Huikea esitys
Uskomaton koordinaatiokyky yhdistyneenä rytmitajuun lisättynä isolla kauhallisella huumoria teki tästä esityksestä aivan mahtavan. Nauroimme ja taputimme rytmissä ja rytmittä :).
Erinomaista viihdettä, suosittelen!
Rytmien ilotulitusta joka ei kyllä jättänyt ketään kylmäksi. Harvoin näkee yleisön näin kokonaisuudessaan innostuvan mistään.En ole mikään musikaali-ihminen mutta tätä voin todella suositella kaikille. Eli mies, jos vaimosi on päättänyt sinut viedä Lontoossa musikaaliin niin valitse tämä! Jos olet käytät festareilla korvatulppia niin ota ne matkaan, rumpuosiossa mekkala on melkoinen.
Upea esitys
Pidimme Stomp-esityksestä paljon, vaikkakin välillä pitikin laittaa kädet korvien suojaksi, kun volume oli melkoinen. Esityksessä kiva ja viihdyttävä juoni.
Simple is beautiful!
We really enjoyed the show, I was amazed by how the group captured the audience with seemingly no effort (I.e. it was so smooth that we didn't loose intrest at any time.) Great! I would see it again.
Näkemisen arvoinen
Erinomainen esitys hänelle joka hakee jotain tavanomaisesta poikkeavaa Lontoon musikaalitarjonnasta.
Sopii kaikenikäisille varhaisteineistä vanhempiin.
Stomp Arvostelut
"Entrancing, Exhilarating. Terrific"
The Independent
---
"Pure Stage Magic"
Sunday Telegraph
---
"This unique percussion and dance show has evolved over the last 11 years from humble street theatre in Brighton into a worldwide, multimedia sensation"
The Stage
---
Tapahtumapaikan tiedot
Näytöksen tiedot
Iltanäytökset
Monday, Thursday, Friday and Saturday 8pm
Matineat
Thursday and Saturday, 3pm, Sunday 3pm and 6pm.
Ensimmäinen esityspäivä
2013-12-12
Varaus päättyy
2014-12-21
Kesto:
1 hour 40 minutes
Etsi teatteria
Etsi teatteria
(5mins) Take Cranbourn Street away from Leicester Square until St Martin's Lane, where you head left up to West Street. The theatre's on your left past St Martin's Theatre.

Katso karttaa